Date published: March 25, 2017 at 11:08 am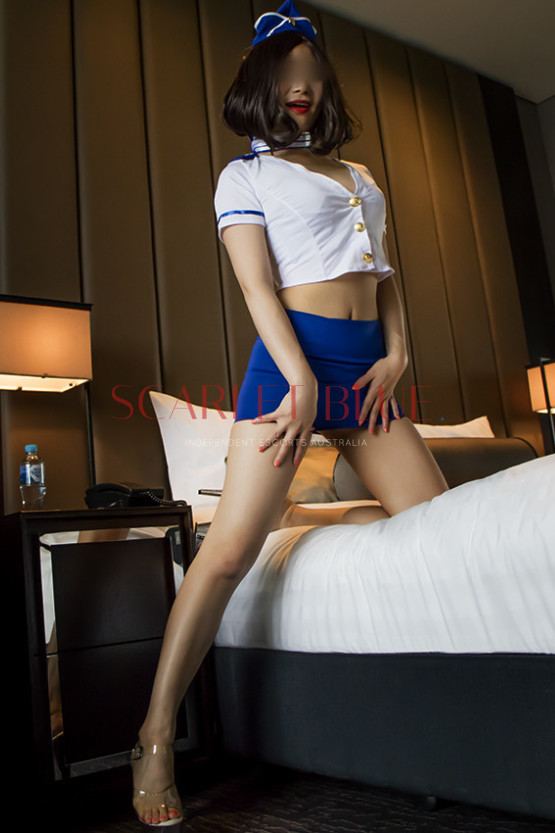 Ben's favourite image of Queenie Pearl
This was the 2nd time I've had Queenie's company and it was for 20 hours on my bday. Let me tell you she is the ultimate GF Experience, from laying on your chest when you cuddle late at night, to waking up in the morning and the first thing you see is a Sexy Air Hostess waiting to have her way with you, Queenie is the perfect girlfriend.

It was 2 months since the last time I saw her on tour and when I first touched her again, I realized how much I missed her soft, silky skin and those gentle warm lips pressing against mine.

The night was a warm Melbourne night and Queenie bought an oreo McFlurry to share with me as strolled around in the Melbourne CBD. She then bought 2 nice little cakes for me to celebrate my birthday. She really makes you feel like she's your GF.

I've been with quite a few Escorts in my time and the sex from Queenie has been the best of the lot. A lot of these girls just go through the motions, but not Queenie. She's quite creative in trying to spice things up and make it better for the both of us.

Some of the things I've done with her.
-Got me to be her naughty photographer to take sexy pics of her as my secretary
-Let me tie her up so she was helpless while I ran my hands all over her body,
-Dress up as a secretary, Japanese Schoolgirl, Air Hostess
-BJ with Poprocks in her mouth
-Vibrator on her clit while she rides me (yes you can feel the vibrations
-69 (funnily enough my first time, yes I'm slow)
- Dildo play on her (first time as well) in that Asian tight pussy was quite an experience.

After the first day, I was completely drained. Which actually led to me unable to ejaculate the next morning. This led to a new thing for me and that was multiple orgasms without ejaculation. Your mind and your body still go through the motions only nothing comes out. I think I came about 5-6 times this way in an hour which blew my mind and opened up new possibilities of sex, thanks to Queenie.

Of course, the only bad thing is that it had to end. Can't wait for her next tour so I can see her and that perfect smile again.

Get her guys, you won't regret it.