Date published: April 13, 2017 at 2:20 pm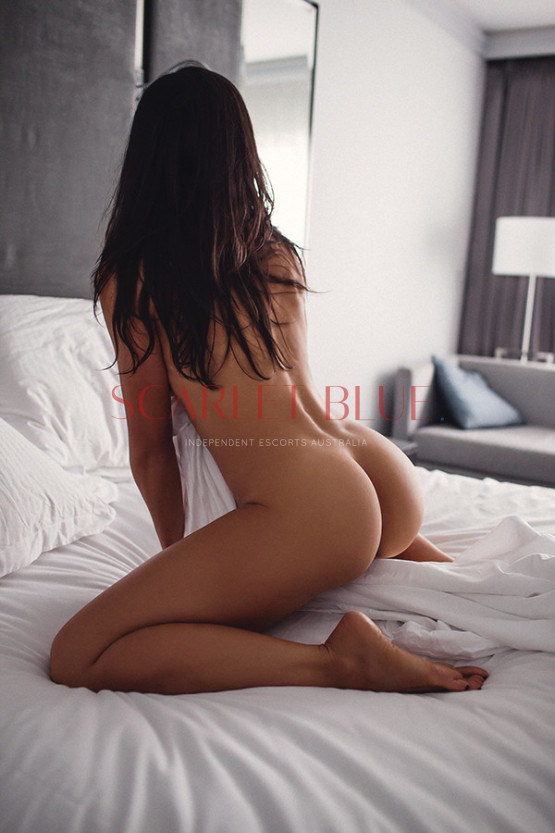 Ron's favourite image of Bianca Mia
I first encountered Bianca on Twitter, where her incredibly sexy images convinced me I should have a look at her Scarlet Blue profile. I interacted with her a bit on Twitter, and was pleased to find that she is a genuine, down to earth person who really seems to love what she does, as well as being a regular source of the sort of selfies most can only dream of. She is a fitness enthusiast, and it shows; her body is incredibly tight and sexy.

I was fortunate to be in Sydney at a time when Bianca was available, and I booked an hour and a half outcall. I was staying in a hotel with no security, so I had the extreme thrill of opening the door to see a magnificent woman, in her 30s and fit and toned as hell, with black hair and a beautiful face, standing outside my door. I let her in (as any sane person would), and spent a few minutes getting to know her just a little. I have since booked a dinner date, as it is clear from the little I learned in that few minutes that she is a fascinating person and I want to learn more. I can hardly wait!

After the first few minutes, we lapsed into the sexy part of the booking. I never go into great detail about this, as I like to keep exactly what passes between me and a lovely lady between us, but I must say Bianca is an absolute firecracker! I had booked for her GFE, and she fulfilled every fantasy I've ever had about an incredibly hot girlfriend, and then some. The sex was totally fantastic, and it kept coming (and both she and I kept coming, too ). Bianca enjoys what she does, and it is easy to tell that; no artificial anything, just incredibly hot, mutually pleasurable, sex. Our time was up much too soon, though it seemed to last almost forever. I have booked Bianca again, and I hope to become as much a regular as I can manage, given that I don't live anywhere near Sydney. She is an experience not to be missed!